For its 2022 collection, Basil introduces a collection of old and new classic designs. Classics stand the test of time in terms of design, function, and durability. They become essential parts of our lives, the basic elements that we depend on day in and day out for years.This collection is the result of a combination of introspection and innovation at Basil. We've taken some of our essential iconic designs and updated their sustainability, visibility, and waterproof qualities. The result is a reimagined set of classics that will continue to spread the cycling joy.

At Basil, we keep sustainable front of mind as we design and produce products for cyclists who are committed to reducing their carbon footprint through their actions and their decisions. We share this urgency and constantly work to find and use sustainable production methods and materials.

This year, we introduce the Basil Bloom Field series, made using recycled PET bottles and featuring hand painted flowers. The new Basil Skane HiVis line and the updated Basil Kavan Eco Classic Double Pannier Bags feature a Bionic Finish® Eco with extraordinary protective properties. One of the key contributions we make to sustainability is extending the life of our products. We're backing up this commitment this year by introducing a unique 10-year warranty on our updated Basil Kavan Eco Classic double pannier bags.

Please join us this year to celebrate the old and new icons in the Basil Collection. We have a feeling you're going to be happy to see them for years to come.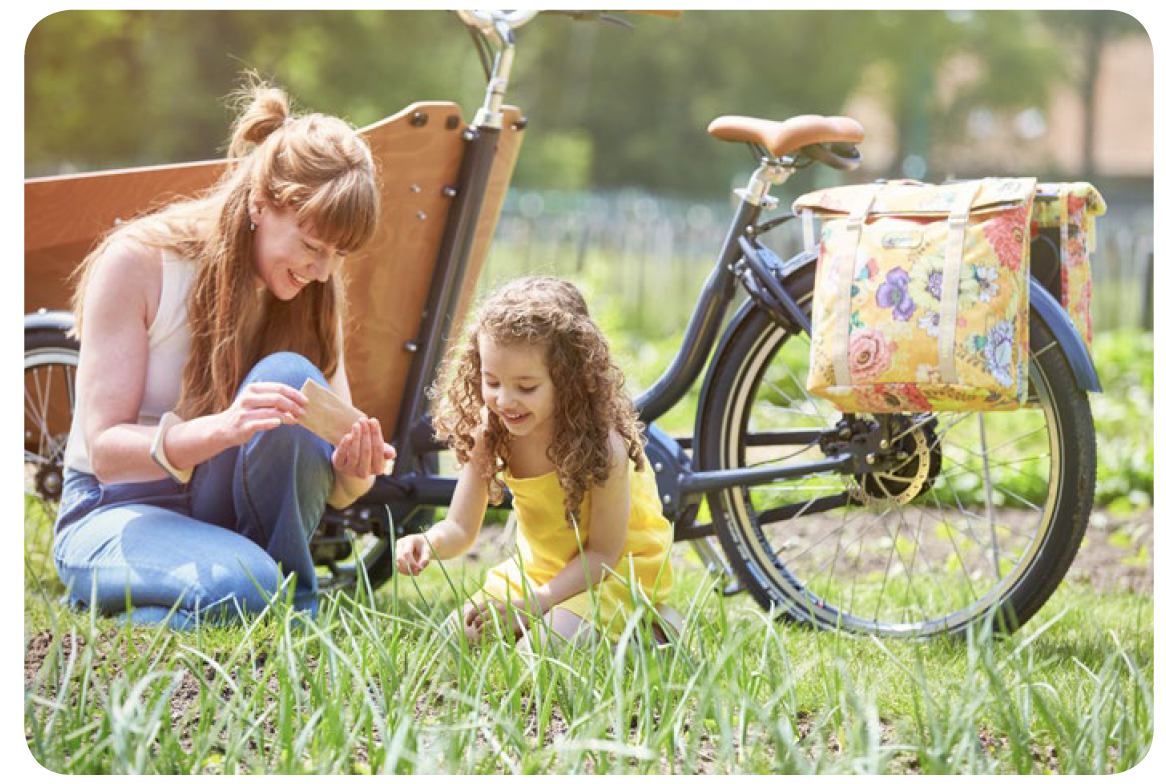 A Little Bit of Sunshine: Basil Bloom Field Series
Incorporating hand drawn flowers, these bright bags offer a modern romantic look with an extra-cheerful energizing feel. The Basil Bloom Field series includes a shopper, double pannier bag, a handbag, two carry-all baskets, a saddle cover, and a bell. We made these waterproof bags using a cotton-feel fabric 70% polyester 600D eco-fabric that contains recycled plastic PET bottles. Available in Honey Yellow or Sky Blue and packaged in recycled kraft paper, the Basil Bloom Field Series makes a blooming day today while making tomorrow better, too.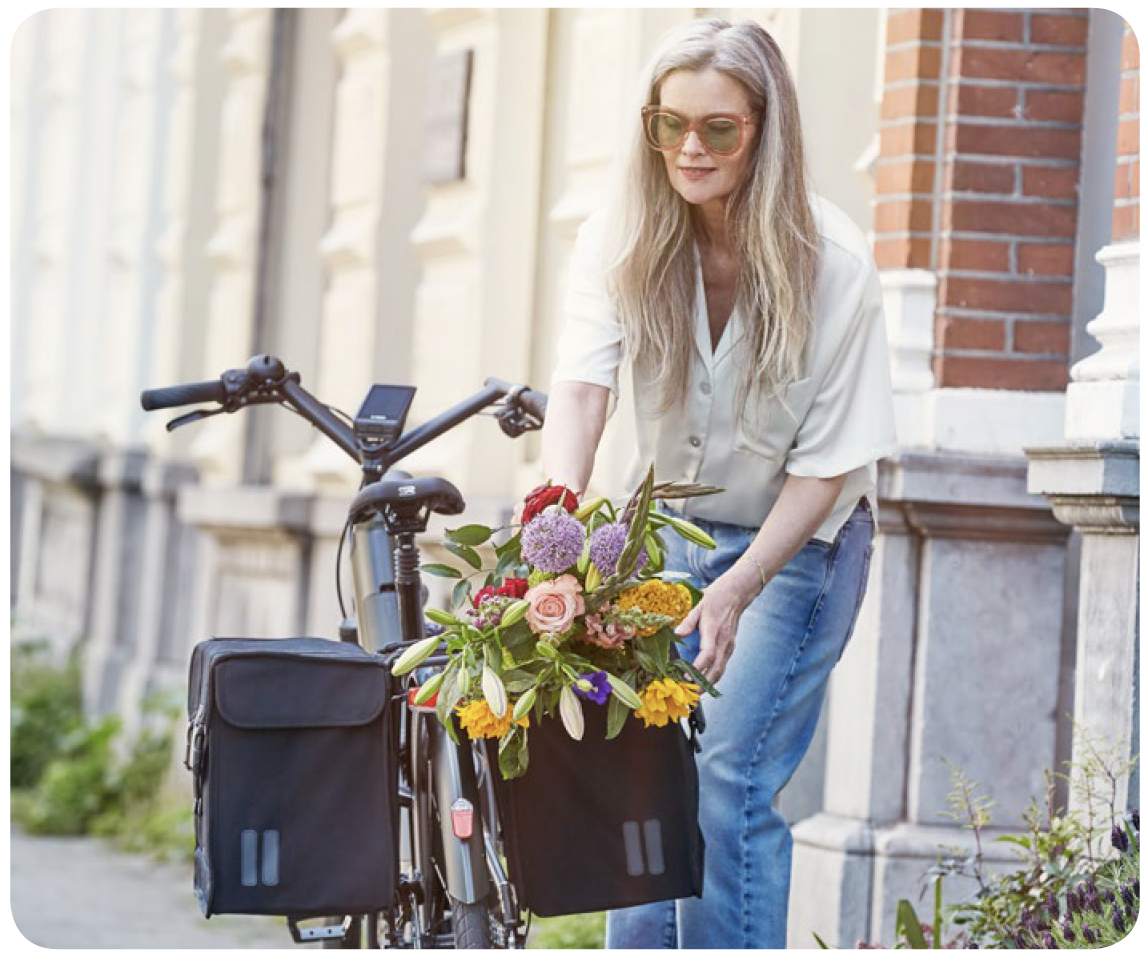 Enduring Heritage Styling: Basil Kavan Eco Classic
The Basil Kavan Eco Classic double pannier bags are the ultimate haul-it-all, long-lasting bicycle bags and the most sustainable canvas bicycle bags in the world. Made with an innovative organic cotton canvas that's color fast, anti-fungal, and oil and water repellant thanks to its Bionic Finish® Eco coating, it also harkens back to the Dutch sailing tradition. We improved its construction to make it stronger, improved its performance in the rain, and improved the cyclist's visibility. The bags also fold back easily to minimize the space required in bicycle racks or for storage. We are so convinced that the Basil Kavan Eco Classic double pannier bags will never let you down that we are offering an
industry first 10-year warranty on production and material defects. The Basil Kavan Eco Classic double pannier bag is a bag for a lifetime.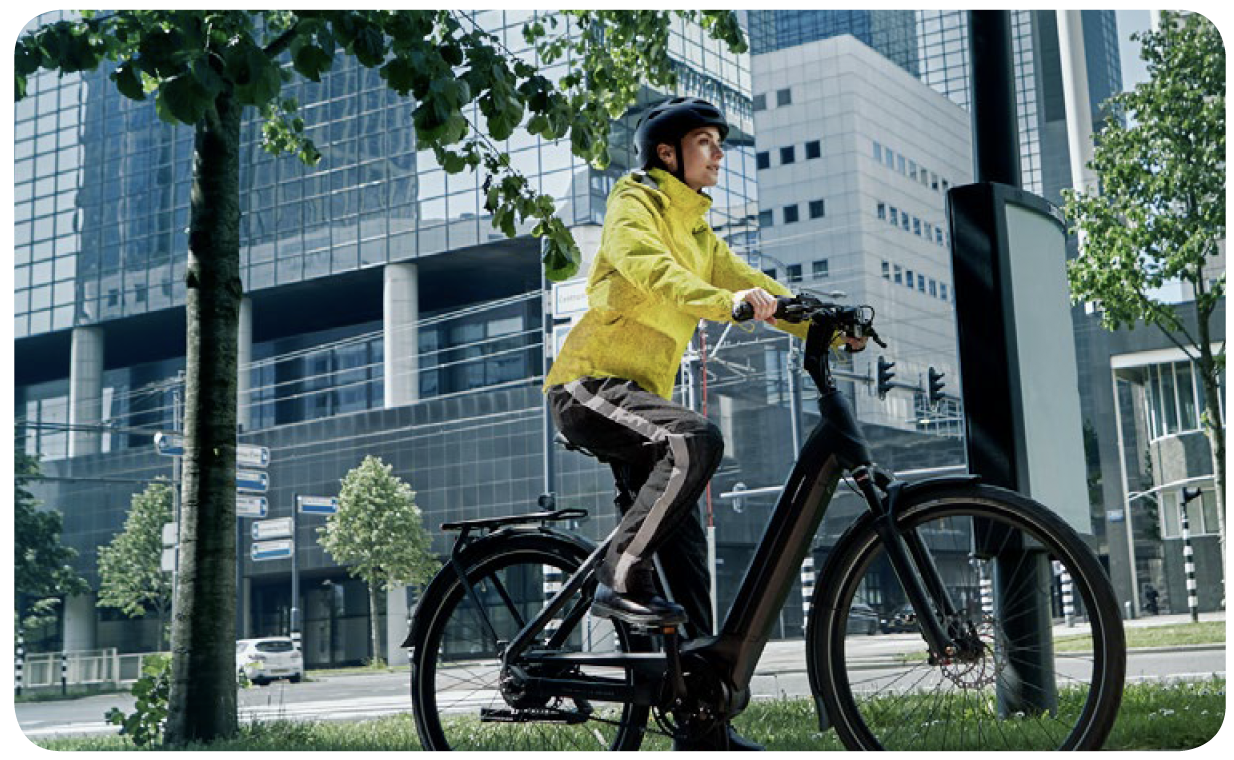 Ultra-Visable Day and Night: Basil Skane HiVis Rainwear
Basil is introducing a high-visibility line to its successful Basil Skane Rainwear collection to ensure optimal 360-degree visibility for cyclists every day in all weather. Basil Skane HiVis Rainwear for men and women has all the qualities of the Skane collection with added high-level, all-conditions visibility. The BlueSign approved 10.000 WP / 10.000 MVP lightweight fabric has a Bionic Finish® Eco coating and two-way stretch for a great fit and movement. The Basil Skane HiVis Bicycle Rain Jacket is designed with cyclists' safety in mind, from the astounding yellow fluorescent visibility day and night to extra space in the removable hood for your bicycle helmet.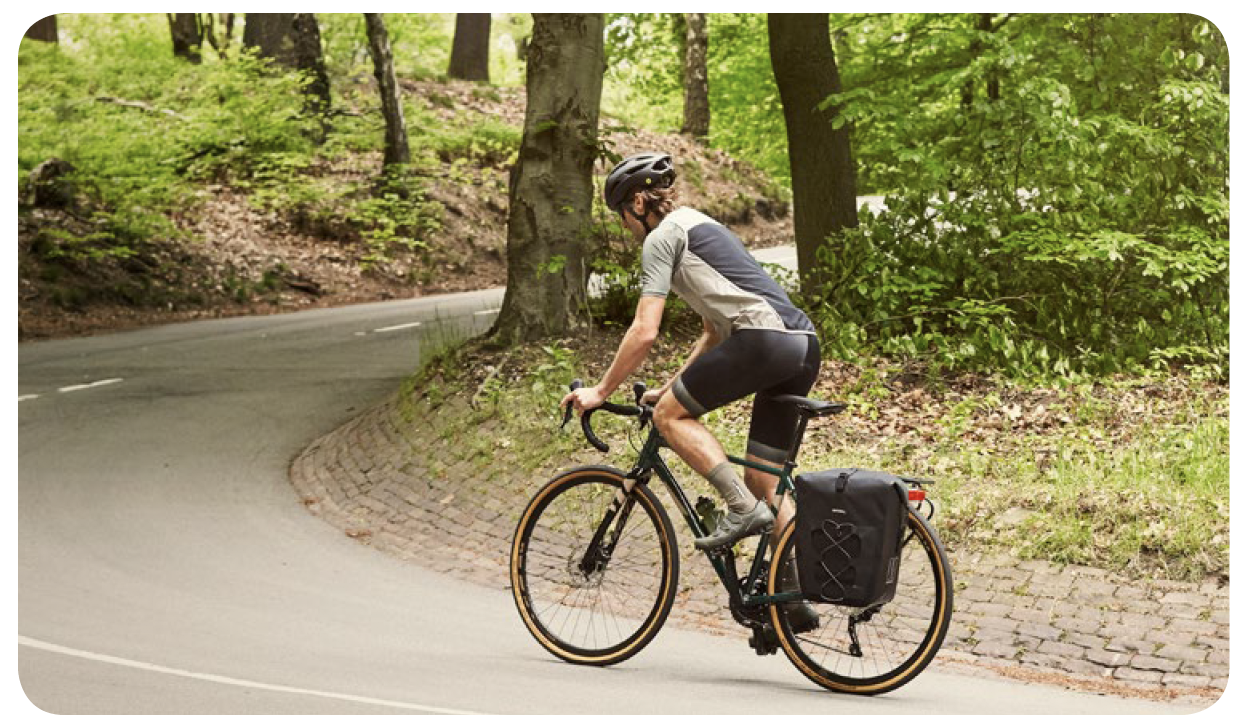 An Adventure Every Day: Basil Navigator Waterproof
The Basil Navigator Waterproof Single Panier Bag is the ideal waterproof pannier for all-weather cyclists to use for exploring, off-roading, and more. Easy to mount and remove, they are the perfect size for daily use. Featuring 600D waterproof tarpaulin, high frequency welded seams, and a three-way roll-top buckle closure, this bag is as waterproof as they come. The Basil Navigator Waterproof Single Panier Bag is an outstanding choice for cyclists who cycle no matter what the weather delivers.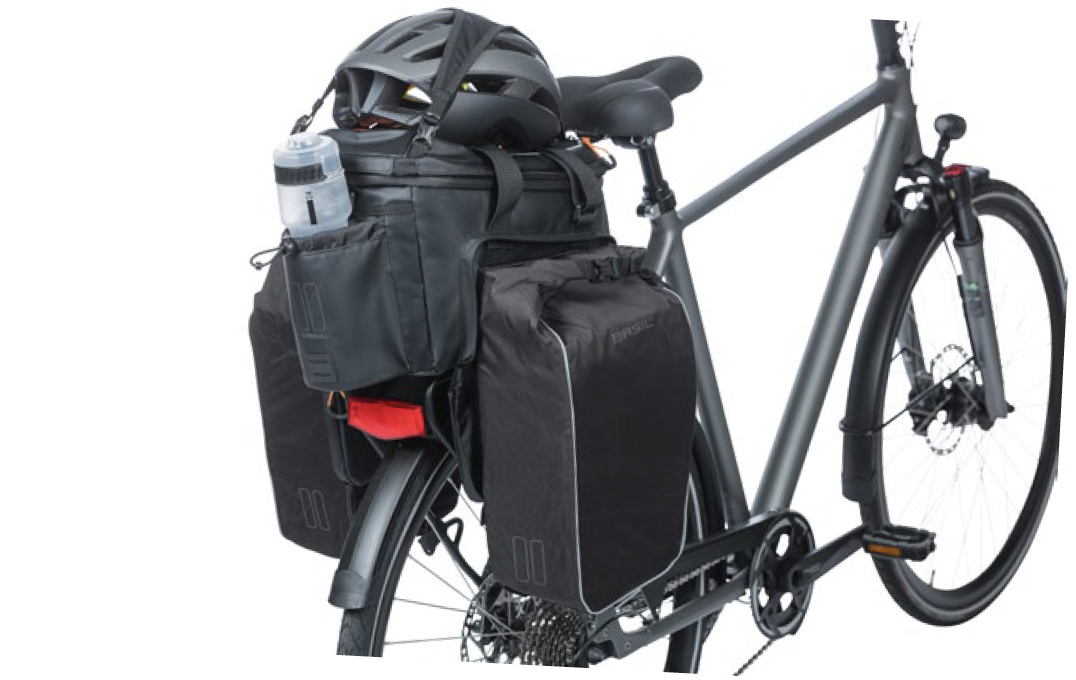 Basil Miles Trunk Bag XL Pro
The Basil Miles Trunk Bag XL Pro is Basil's top of the line trunk bag. It adjusts easily to changing plans with an expandable main compartment and two side bags that give it an incredible range of 9 to 36 liters. We've added additional features like adjustable dividers and ice pack compartments inside as well as an elastic cord for extra layers and a mesh x-shape for helmets on the outside. These additional features are the result of listening to our customers desired features and quality for their ideal waterproof trunk bag. Cyclists can keep on going off the beaten path thanks to the Basil Miles Trunk Bag XL Pro's flexibility and quality.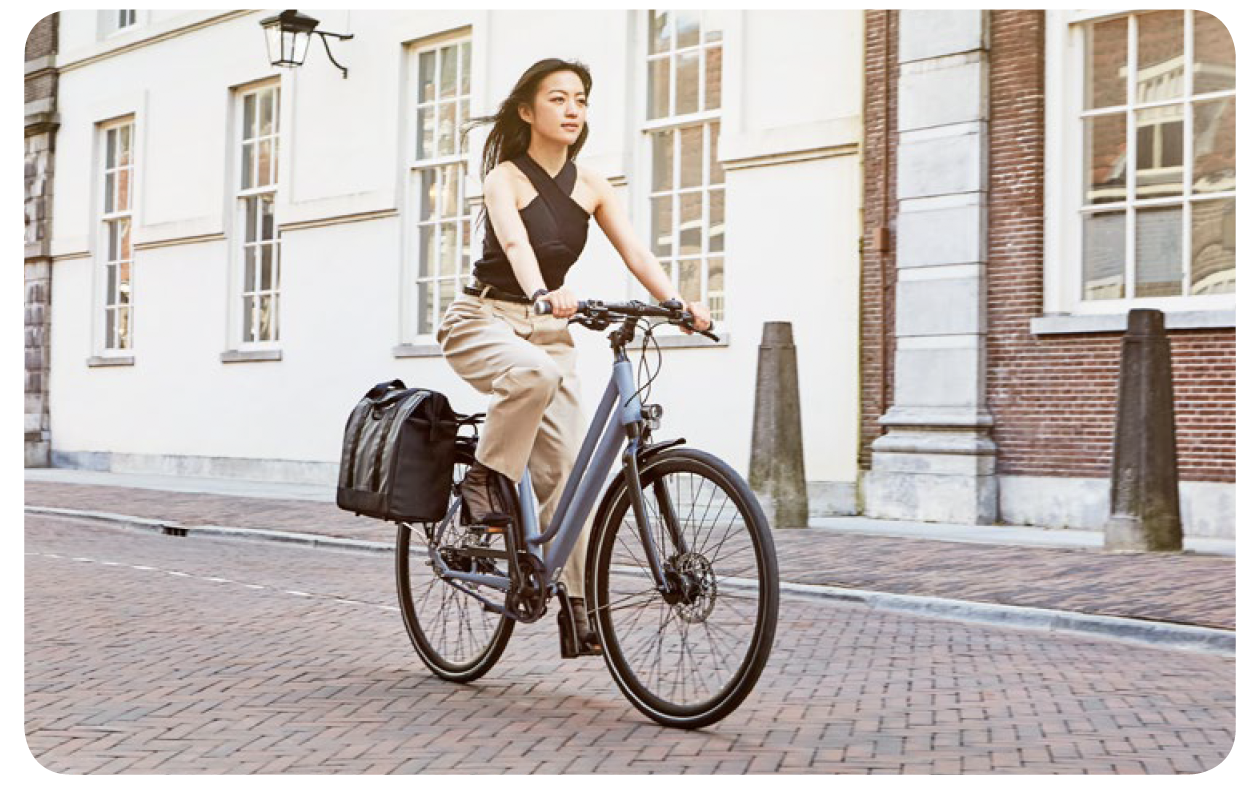 Instant Classic: Basil Grand Bicycle Shopper
The Basil Grand Bicycle Shopper is an eye-catching functional daily use bag that features a unique doctor's bag closure that stays wide open while stowing purchases and closes watertight when it's time to go. Designed for any day in town, it's tall enough to hold an upright liter bottle upright, fully lined, and has a padded inner pocket for electronics. The shopper has a water-resistant closure and is easy to attach to bicycles. This bag is the e-bike perfect way to gather your treasures around town and carry them home hassle-free.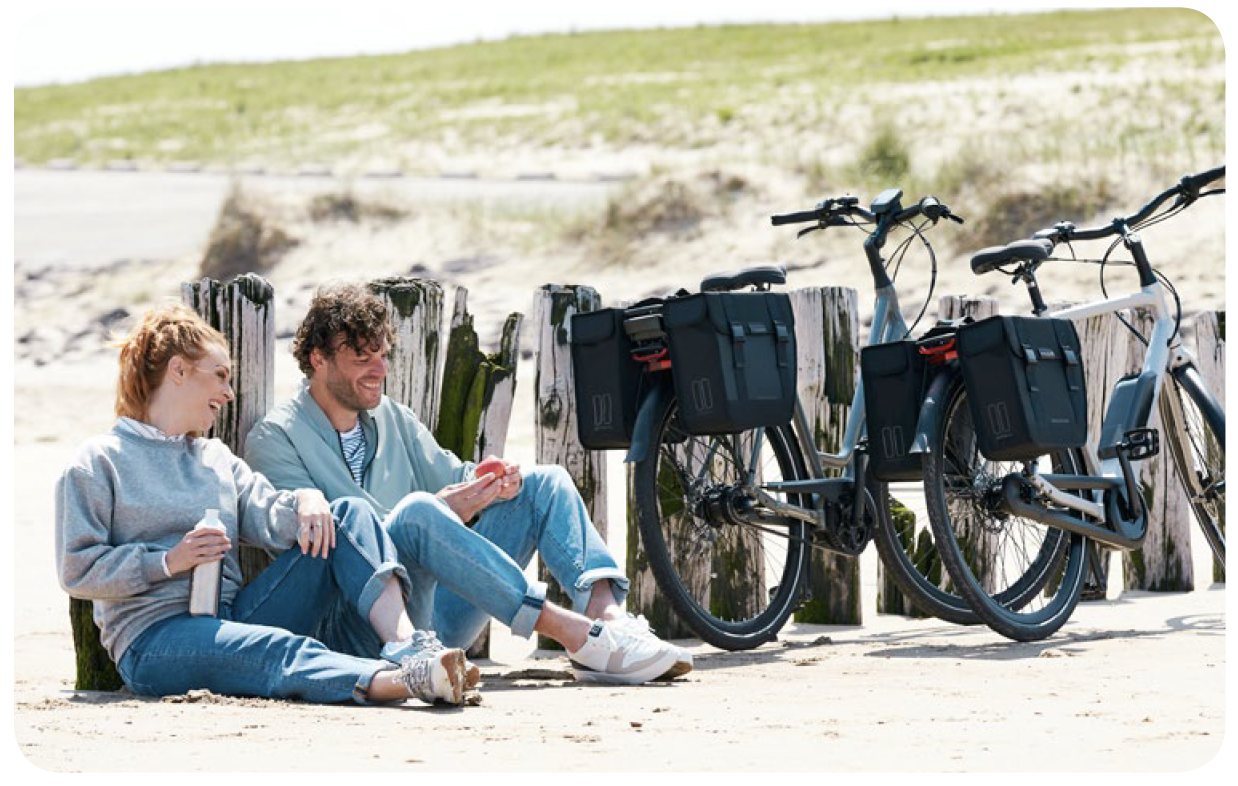 See the World from your Saddle: Basil Tour Series
The iconic Basil Tour series is perfect for cyclists who like to see the world from a bicycle saddle. The updated single and double pannier bags are a staple for cycling enthusiasts enjoying the sites. Our updated design includes our signature curved front end for freedom for movement for cyclists. We've improved the Basil Tour pannier bags to be more water resistant and easier to use thanks to the new easy closure. We've also introduced waterproof models. For cyclists who like to spend their weekends or holidays exploring new places, the Basil Tour series pannier bags can make every day a tiny holiday.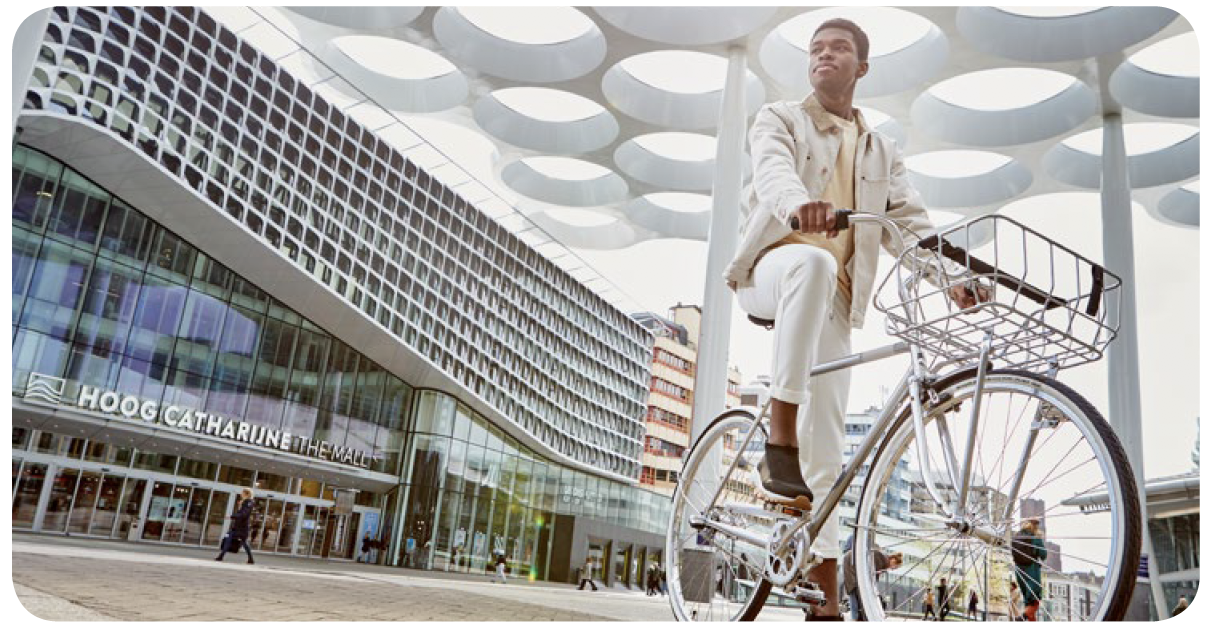 The Essence of Cycling: Basil Portland series
The pared down Basil Portland series offers an updated and expanded clean look. The simple lines of this timeless design make a bold statement for urban cyclists. The Basil Portland series includes two new rear baskets with the that use the MIK system and two new front baskets. All of the baskets have a removeable elastic band to keep belongings secure. The front carriers have been updated with the same elastic belt. The Basil Portland offers an essential style statement while still carrying everything a cyclist needs for their commute or outings about town. Why use anything else?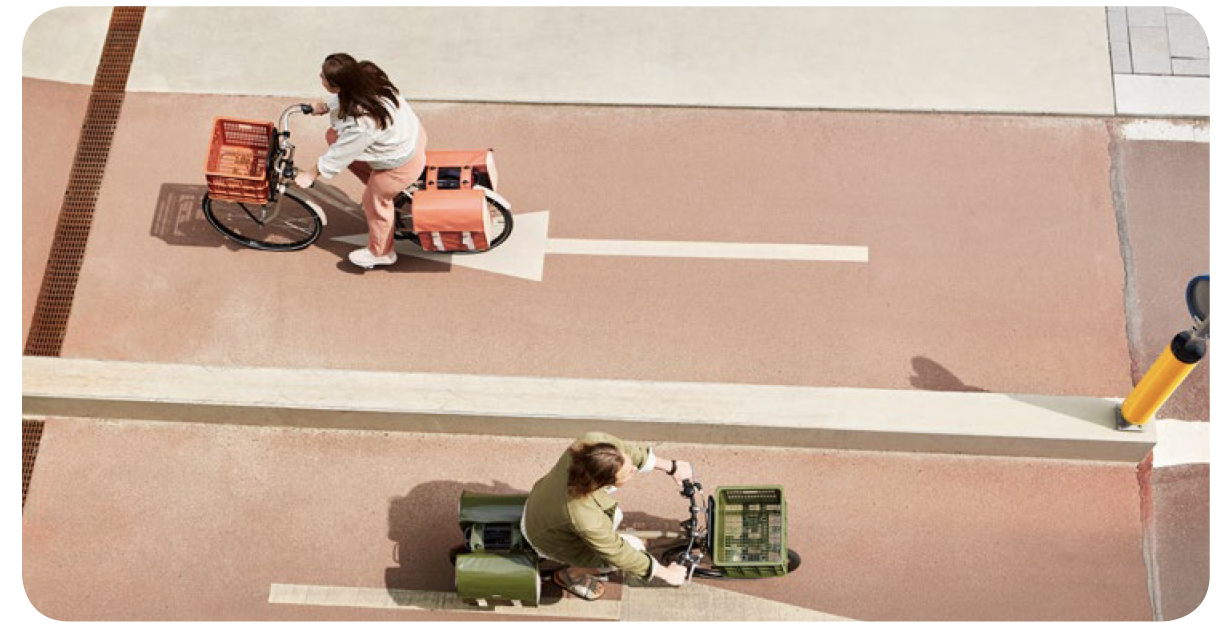 Your Color, Your Vibe: Basil Urban Load series
The Basil Urban Load series carries the things cyclists need to get through their daily shop, workout, work, or school. Cyclists can pick the color that matches their vibe from our four different color options: Moss Green, Terra Red, Black, and reflective Black. Our double pannier bags are designed to mount and stay on bicycles in every kind of weather. There's a bag in the right color combination for every cyclist.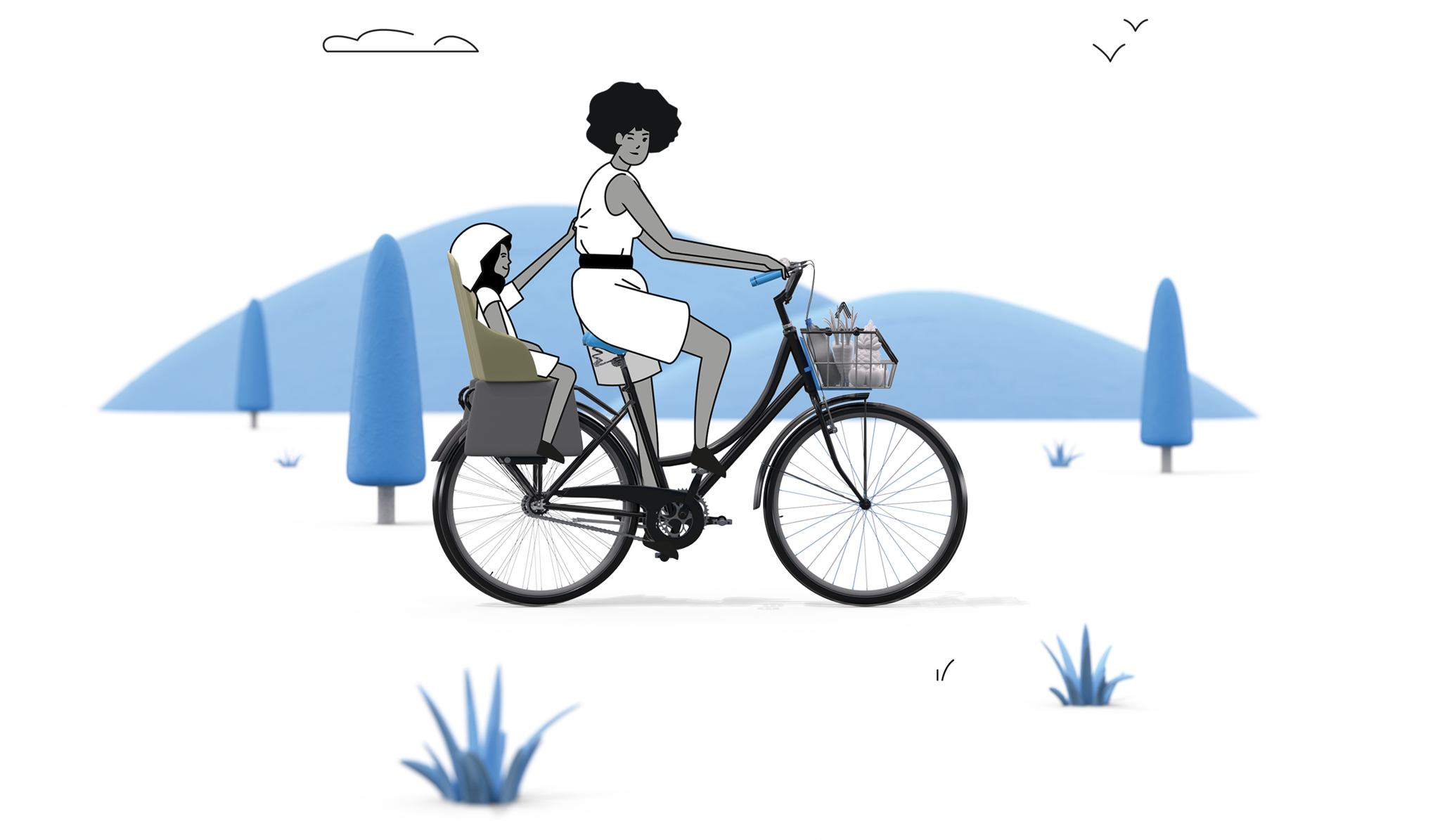 Pleased to MIK you
Meet MIK and MIK HD, the open platform carrier system with which bicycle accessories and child seats can be safely and easily mounted. MIK + accessory = GO. New this year are the MIK double decker for the MIK adapter plate and the MIK pannier bag tubes for MIK carrier plate. Both products are the result of listening to our customers desired features and quality for their ideal bike ride.
And that's not all...
Keeping what's good and making it even more amazing. That's the philosophy behind all of our products. In addition to its new portfolio of products, Basil is expanding its existing collections, with new must-haves including: