Do you often jump on your bike to work, friends, the supermarket, or do you regularly take a recreational ride through nature? Great idea! Cycling has many advantages. Cycling is healthy. It keeps you moving, while at the same time you can enjoy the fresh air and the wind in your hair! In addition, it is also a sustainable solution to get to your destination. Cycling in the summer sun is of course very nice, but in the autumn it is also wonderful to get a breath of fresh air on the bike. Now that the dark and shorter days of autumn are approaching, it is important to pay extra attention to your safety and visibility. We are happy to give you a number of tips for extra safety during your bike ride!
Fast, from A to B
If you live or work in the city, you often find yourself stuck in your car, surrounded by traffic. Very frustrating, especially if you are in a hurry! Especially in the city, it is therefore sometimes faster to jump on your bike, instead of taking the car. As a cyclist, you will of course not be bothered by traffic jams. Nevertheless, the traffic on the road also brings dangers to cyclists. You have to be constantly alert and pay attention to the traffic around you. But your visibility outside the city is also very important. For example, if another road user does not expect your presence on a quiet country road. So make sure that you are always clearly visible on your bike. This way you reduce the risk of accidents and feel safe while cycling!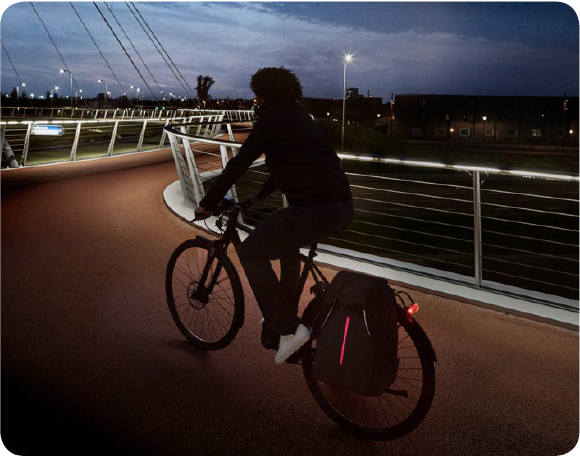 LED's be seen: Nordlicht Technology
Good lighting on your bike is essential. But in addition to your regular bicycle lighting, there are more things you can do to increase your visibility on the bike. For example, a selection of our Basil panniers and bicycle baskets are equipped with an integrated LED strip. These bicycle accessories use Nordlicht Technology and are specially designed for extra visibility on the bike in the dark and at dusk. Accessories that you attach to the handlebars - such as front baskets - have an integrated LED strip that turns white. And accessories, such as rear baskets and bags, which are attached to the luggage carrier, are coloured red. It is not intended to replace your regular bicycle lighting, but to increase your visibility for extra safety.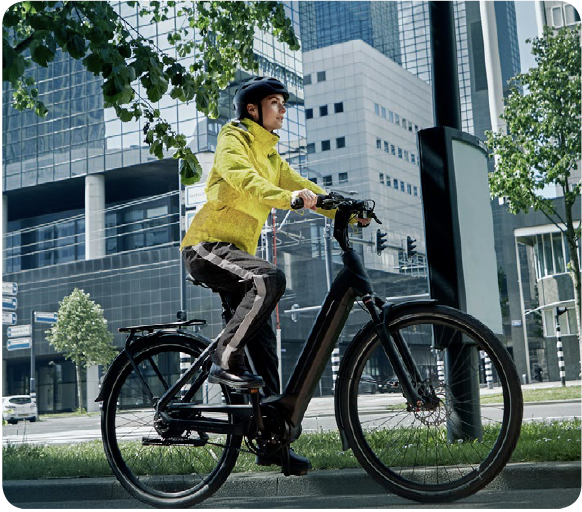 Day and night: keep your safety in mind
Especially now that we are heading towards autumn again, the chances that you will be on your bike in the dark or at dusk are increasing. Reflectors on your bicycle accessories make you more visible thereby increasing your safety on the bike. That is why all Basil bicycle bags are equipped with tone-on-tone reflection. The reflection details on the bags ensure that you are even more visible in the dark. Unfortunately, we cannot rule out a heavy downpour during your autumn trip. Even when it rains, you want to make sure you are visible. In addition to good lighting on your bike and reflection on your accessories, good rain gear with reflective details can also contribute to good visibility. You cycle a lot better when you know that you are seen. For cycling clothing in which you are certain to be seen, choose from our new Basil Skane HiVis range of rainwear. It is almost impossible to be missed wearing this. The range allows you to simply enjoy your ride. You might find yourself hoping it rains!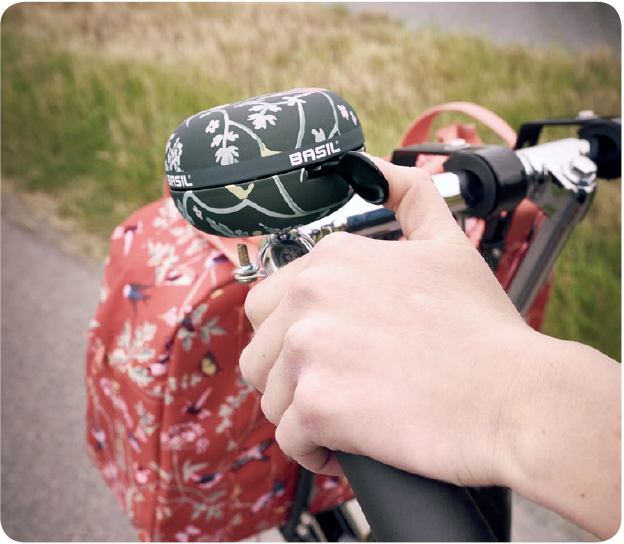 Cyclist, be heard!
Being heard. Of course we all want that! Also on the bike. Sometimes, in spite of good visibility, someone may overlook you on the road. In cases like these, you need to be able to alert other road users to your presence. Do you live in a busy city? Then you are probably used to cycling into cheerful tourists crossing the road without looking, too engaged with the beautiful surroundings to notice the traffic. Or do you like to gather speed during your bike ride in nature on your e-bike or speed pedelec? Then you are likely to always come across people who can't keep up with your pace. Day-trippers who mainly look around and enjoy nature may not be aware that you are cycling behind them at a fast pace. Tringgg! A good bicycle bell is the solution. Not only is having a bicycle bell important, but you also want one that does its job well so that you can warn road users around you when necessary. Guaranteeing you can safely continue on your way!
Ready to hop on your bike for a lovely autumn ride?