Do you love to get a breath of fresh air with your dog, but sometimes you can't muster the courage to put on your walking shoes? Then the solution is very simple: take the bike! Take your four-legged friend with you in the dog bike basket and set off together. Whether you choose a long bike ride through various nature reserves or a short ride to the neighbouring village, the bike ride becomes even more enjoyable when you have your dog with you. Enjoy a breath of fresh air with your (dog's) hair blowin' in the wind! But what requirements should you look for in a basket for your dog? We'd like to give you a number of tips for a pleasant and safe bicycle ride together.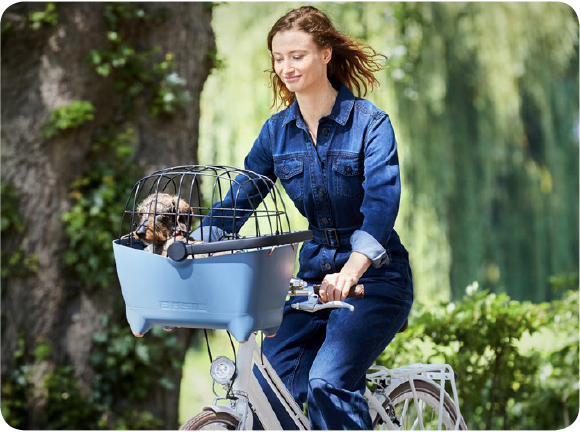 Safe on the road together
When you jump on a bike with your dog, safety comes first. An open bicycle basket is of course super fun! This way you can stroke your buddy's endearing face during the ride. But what if Lassie, Bram or Coco gets excited when he sees another four-legged friend? Then a domed top over the basket is a good solution. This way, he cannot fall from or jump out of the basket or jump when catches a glimpse of another dog. A separate domed top is available for all Basil dog bike baskets that you can attach to your basket. Would you rather not have a domed top on your basket? Thanks to the handy openings in the animal bike baskets, you can also secure your four-legged friend with a lead.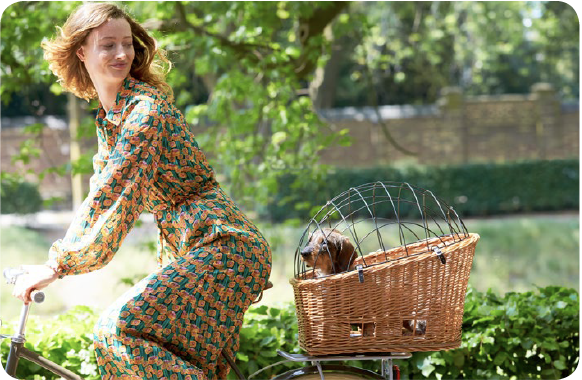 Comfort for your four-legged friend
During the bike ride, you want to sit comfortably on your saddle. And you want your dog to be comfortable as well. So what not give your four-footer a soft cushion in the basket? Nice and comfortable for your buddy! That is why all Basil dog bike baskets come with a free cushion that is easy to clean. This way your four-legged friend can lie comfortably and quietly when you are cycling and enjoy an unobstructed view during a relaxing trip.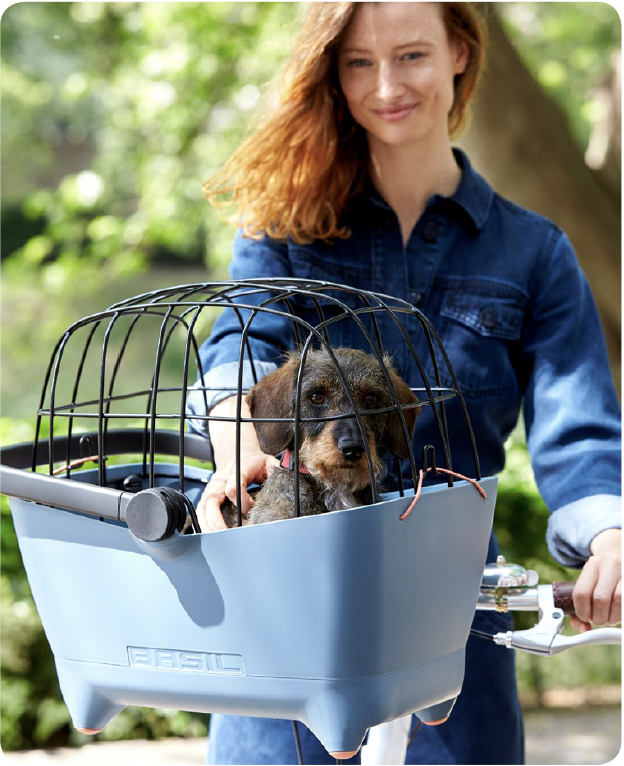 Practical and stylish
A dog basket on the front or back of your bike is of course very practical if you want to take your dog for a bike ride to the vet, the market or the forest. But you also want it to look nice as well! We can imagine that you'd like to have the dog bike basket match the design of your bike. Do you have a sporty electric bicycle or speed pedelec with which you like to take long bike rides in the countryside? Then you don't want to leave your dog at home all day and you'd rather take your little friend with you in a sturdy, modern and durable dog bike basket such as the Basil Buddy. Go out and make as many kilometres as possible while you enjoy nature and fresh air together! Or perhaps you mostly cycle through the streets on your vintage city bike? Then you might prefer to transport your Jack Russel, miniature kees or dachshund in a trendy and elegant wicker bicycle basket with a natural look. With the Basil Pasja animal basket for the back of your bike, you always transport your four-legged friend in style! Do you prefer a basket on the front of your bike, so that you can see what your little rebel is up to during your adventure on the bike? Then the oval wicker bicycle basket Basil Pluto is the right choice. Cycle around with style, because both you and your pet will look great on the bike with the right dog basket!
Do you also use your bicycle for other trips, for example to cycle to work or the supermarket? The Basil Pasja and Basil Buddy dog bicycle baskets are easy to mount on your luggage carrier with the MIK attachment system and can easily be clicked off again after your bike ride. While cycling, the basket is of course held firmly in place. Wind in your face, dog biscuits in your pocket and off you go!
Can't wait to get cycling? Time to go out with your best buddy!