Basil launches innovative and stylish bicycle rainwear range
Arrive at your destination dry and in style
"I hope it's going to rain today!". With this unconventional slogan, Basil introduces its newest product collection to an ever-growing portfolio: cycling rainwear. One of the major reasons why many avoid cycling into work is the fear of getting caught in the rain and arriving at the office drenched*. With Basil cycling rainwear, a selection of three new product lines, there's nothing to get in the way of cycling 365 days a year, whatever the weather. All items in the collection are breathable, waterproof and what's more, incredibly stylish.


Functional and fashionable
During the development of the new collection, special focus was placed on achieving the perfect fit and sizing structure. With these factors successfully realised, the cyclist can enjoy more freedom of movement in all the right places. In addition, the rainwear items are equipped with high-quality reflective accents for enhanced visibility. Another unique feature found in the collection is the height-adjustable hood of the Basil Kane series, which makes it possible for the wearer to have a helmet (or even just a more sizeable hairstyle) worn under the rainproof hood itself. The T-Fabric materials used in the manufacturing of the items are as environmentally friendly as possible. From an aesthetic standpoint, the quality material hits high notes with a fashionable matt finish and an appealing tactile feel. In addition to first-rate functionality, Basil sought to continue its reputation as a brand that understands trends by developing a rainwear line that doesn't skimp on style. After all, nobody wants a one-size-fits-all approach to fashion when they can help it. The beautiful matt fabric, the subtle Scandinavian motifs, the arresting colours and elegantly integrated reflective elements combine for a series of standout raingear that will become an eye-catching addition to your coat stand. You'll be proud to be seen sporting something so stylish as you take to the great outdoors on your bike.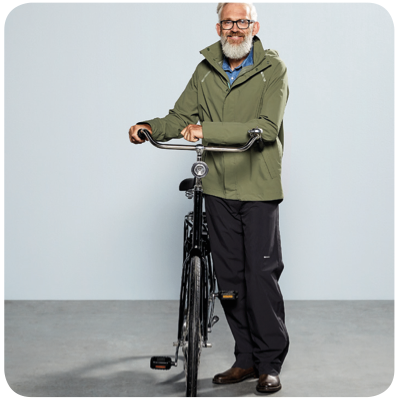 The Comfort series, Basil Hoga, is the basic addition to this Basil collection. That being said, there's nothing basic about the quality designs and luxurious materials you'll find here. Items in the line have a breathability rating of 5,000 MVP, with a waterproof rating of 5,000 WP. What's more, DWR coating, stretch panels and tone-on-tone reflective accents make Basil Hoga a line-up worth looking into. All items come in their own pouch, have an exhaustive measurement system and are designed to provide a more perfect fit thanks to TNO research. A raft of smart innovations ensure optimum use while cycling. "We're setting new standards in this area. The affordability and quality of these items, not to mention the levels of style on show, are unprecedented," says Patrick Ebbeling, the man responsible for Basil Cyclist rainwear.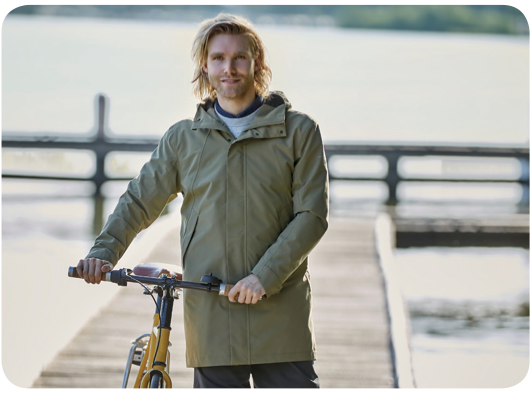 The Basil Mosse fits in perfectly with the fast-paced beat of city life. Work, socialising with friends, enjoying the town, taking in a movie, or simply spending some time getting Zen after a gruelling hour in the gym. You'll put this parka on every day, whatever destination you're headed to on your bike. This is true, even when it's raining. The Mosse series has the same functionality as the Hoga line, such as the 5,000 WP and 5,000 MVP credentials, stretch rating, not to mention the tone-on-tone reflective details. However, the Mosse collection offers far more in the way of fashion, giving plenty of choice for those looking to cycle in style. There's a Mosse raincoat to keep the downpour from drenching you, parkas and matching trousers for men and women, not to mention ponchos and an extremely stylish trench coat to consider. It's the most on-trend and urban-focused of our rainwear lines, with Basil Mosse holding a special place in our affections.
The Basil Skane series has been specially developed for the commuter who demands the absolute best from their bicycle accessories. The T-Fabric is both 10,000 WP and 10,000 MVP, of the two-way stretch variety, lightweight and carries the independent Bluesign label to affirm its eco-friendly credentials. A unique feature is the adjustable hood that allows for the cyclist to wear a helmet under the hood itself or keep a more voluminous hairstyle safe from the elements. A jacket has been designed for both men and women that provides a snug fit, ensuring clothing is kept close to the body and protected from the weather, even when cycling at high speeds. This rainwear is also incredibly comfortable thanks to its innovative two-way stretch fabric.
Selective distribution
In contrast to other Basil collections, these lines will be distributed more selectively. "A limited number of wholesalers per country will begin offering the line. This gives the cycling raingear the attention and focus it rightly deserves," said Marc Roelofsen, CEO of Basil. "We're talking about the largest introduction to Basil, ever. 133 new items are being added. That is why we've drawn up specific conditions for online and offline sales, allowing issues such as content, quality of customer contact and consumer experience are guaranteed."
Further fulfilment of the brand promise
This rainwear collection builds further upon Basil's brand promise of "Spread the cycling joy". After all, Basil has for a long time worked toward getting consumers to cycle more often. This is achieved by developing stylish and relevant cycling accessories. Cycling is not only a healthy activity for the individual, it's also good for the environment. Good for you, good for the world. The Ulft-based company wants its products to encourage more widespread use of the humble bicycle and help build a better world. "The use of materials with an independent Bluesign label fits in perfectly with that philosophy," says Marthijn van Balveren, owner of Basil and MIK. "This year, we've also invested in a great many solar panels at our head office, meaning we're generating more power than we use."
Introduction at the Basil stand at Eurobike
The new rainwear collection will be unveiled at the Eurobike exhibition which kicks off on 4 September 2019 in Friedrichshafen, Germany. At the must-visit stand of the innovative brand, Frank Holstein (Visual Merchandiser for Basil) was allowed to go wild and be creative in his brief, putting together dynamic combinations of items from these new lines with clothing and accessories from other classic Basil collections. "It's wonderful to see that the clothing is a magnet for consumers in every shop, but the combination with the other accessories takes everything to the next level", says an enthusiastic Holstein. The first rainwear lines will be available from early December 2019.  
Basil/MIK stand (Hal A4, no. 206).