Your valuable items remain dry.
Rain makes everything grow: flowers, plants, trees... and our inspiration! Rain got us thinking: how do you keep your stuff dry? Especially when it is raining cats and dogs. Therefore we created four new series to keep your personal belongings 100% waterproof while cycling.
These series, - Basil Noir, Urban Dry and Miles, meet the highest quality standards when it comes to the 'waterproof' predicate. And, of course, your bicycle bags still look beautiful. We'll explain you what that means on https://www.basil.com/en/bicycle-bags/waterproof/. That combination of fashion and waterproof is unique in the market. The next series of waterproof Basil bags are now available.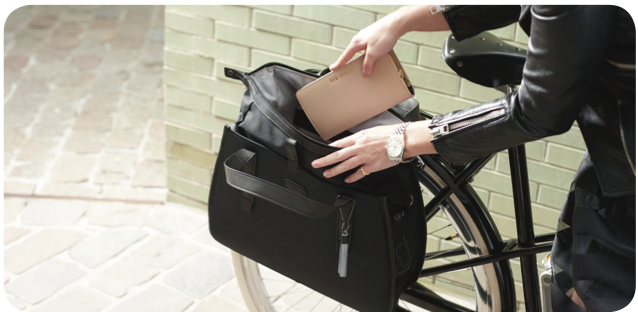 Noir. Stylish black for fashionistas
The Basil Noir series is perfect for fashion-conscious women who enjoy the effervescent city life. Should they get caught in the rain, no worries. The Basil Noir bags meet the high IPX3 standard, so 'waterproof' is genuinely a watertight promise. In addition to the bags (Business bag and City bag) there are also black bicycle seat covers and a black wicker-look basket.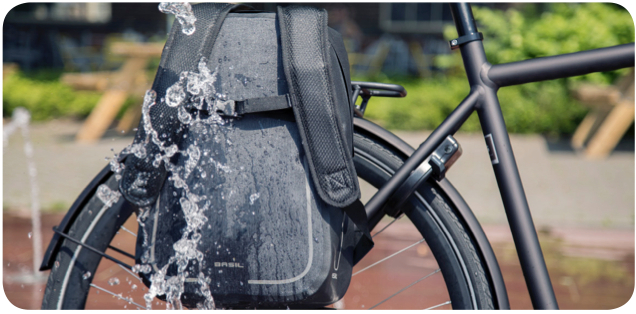 Basil Urban Dry. Enjoy every ride
The Urban Dry series is where style and function meet in sublime fashion. The business bag, the shopper, bicycle backpacks (new!) and the double bag from this series are waterproof, so your expensive laptop and smartphone stay bone-dry during a downpour. The bags are finished with Vega leather-look edging and can be attached to your bike in seconds.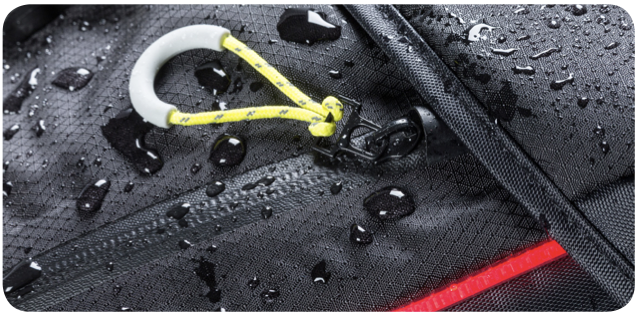 Basil Miles. Waterproof on the road
Made for people who go for the sheer enjoyment of cycling, maybe on a cycling holiday or a relaxed ride on a Sunday afternoon. The bags have no visible seams and are waterproof in accordance with the high IPX3 standard. Not a drop of water will get to the contents of the bag. Basil Miles bags are available in four sizes: day pack, trunk bag, a double bag and a handlebar bag. Available in two colors: black slate and black lime. The Basil Miles bags feature smart and safe details: reflective components and eyes for attaching LED lights.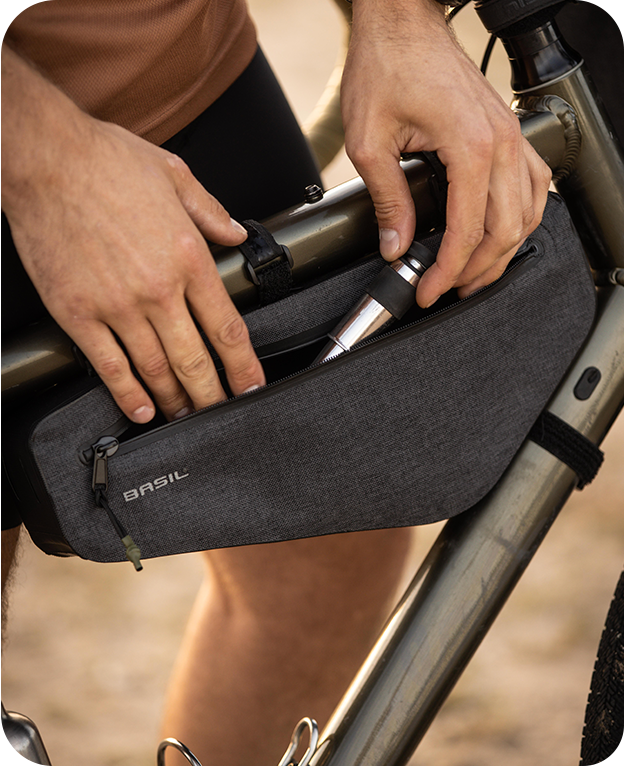 Basil Miles. Waterproof on the road
"We want to 'Spread the cycling joy.' Off-road cycling, gravel biking, is becoming increasingly popular. What was previously known primarily among avid cyclists has now become a way to explore nature. To embark on a cycling adventure, challenge yourself, and make a sustainable choice to discover your surroundings by bike. To provide yourself with all the conveniences on the go, Basil has developed the Navigator Storm bag line. Specially designed for adventurers, it's a waterproof hybrid bag line, from saddlebags to frame bags to handlebar bags. The Basil Navigator Storm easily attaches to the side of your bike with the MIK Studs system, allowing you to make your entire bike usable and set it up practically for your gravel biking adventure."