What could be nicer than jumping on a bike and setting off with your partner, friends or family on an enjoyable bike ride? Whether you go on a multi-day tour or just want to escape the hustle and bustle of the city for a few hours, when you're on your bike you enjoy the serene tranquillity and beautiful nature and go through picturesque villages you didn't know existed. Fresh air in your lungs and the smell of pine from the autumn forest in your nostrils! An ever-growing number of people regularly use their bicycles in their spare time for a pleasant and relaxing bike ride. Especially in this corona time. Cycling is the safest way to travel together during this pandemic. During such a relaxed bike ride, you don't want to have to worry about your cycling equipment, so it's nice to be well prepared. Will you soon be going out on the bike? Then we'dre like to give you some tips to think about!
Switch your accessory, click!
You make different demands on your bicycle accessories during a relaxed bike ride than during your daily commute. For example, you can mount a laptop bag on your bike for work, but for a recreational bike ride you need space in your bag for a picnic blanket, enough food and drink for the road, a map or navigation system and showerproof gear in case a sudden shower looms on the radar. For a relaxed bike ride, you would therefore prefer to exchange your daily accessory for a sturdy backpack, a nice basket or a spacious double pannier. And do you take the bikes with you on the back of the car so that you can enjoy a bike ride during a weekend away? Then it is useful to be able to temporarily remove your bag or basket from your bicycle, so that your accessory does not flap around when you're driving. But often it is quite a chore to switch your bicycle accessory. A mounting system for your bicycle such as MIK, with which you can change your accessory in just 1 second, is ideal! Click and gooo!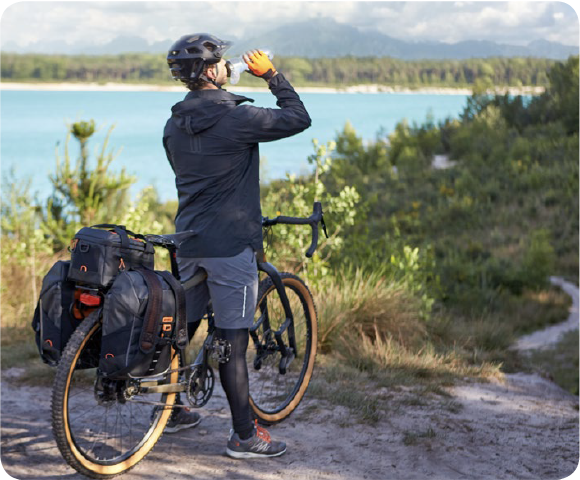 Have you packed everything?
Check check, double check! The sandwiches for lunch, water, a flask with coffee for the road and of course a biscuit. Being prepared saves a lot of hassle along the way. So when preparing for your bike ride, make sure you choose the right accessory to store your belongings. Which bicycle bag or bicycle basket meets your requirements? Are you going on a day trip and do you want to take enough gear with you for the road? Then a spacious bicycle backpack or trunkbag might be the right choice! You can easily attach these bags to your luggage carrier when you go out on your bike. Are you planning to visit a museum on the way or to take a short walk in the area? Then you can easily take these bags with you as a backpack or shoulder bag.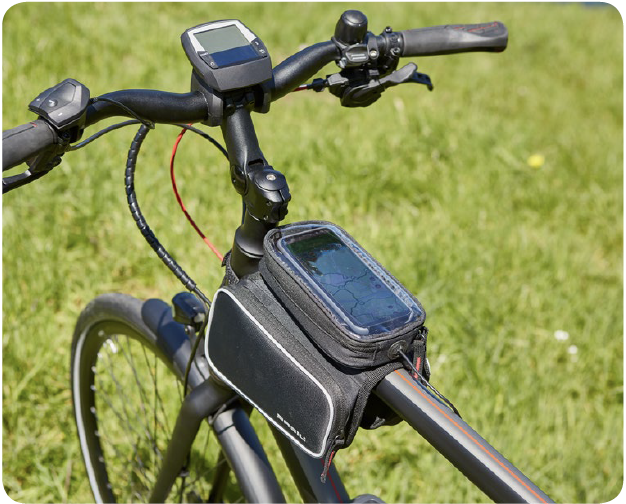 Your things within reach
Do you want to enjoy the beautiful surroundings and still have your things within reach? For example, to drink a sip from your water bottle on the way? With a handlebar bag on the front of your bike, you can easily access the contents of your bag during your bike ride. This is also very useful if you want to take a map on which you have marked your route! Do you prefer to use a navigation system or your mobile phone to keep you on the right (bicycle) path? Holding the device in your hand while cycling is certainly not safe. But.. we have found a solution: a frame bag is perfect for a recreational bike ride! A frame bag has a smartphone touchable window at the top for your mobile phone and also has space for things such as keys, earplugs and a tire repair kit. There is also an opening for earplugs. Ideal if you want to listen to some happy tunes on the go via your smartphone!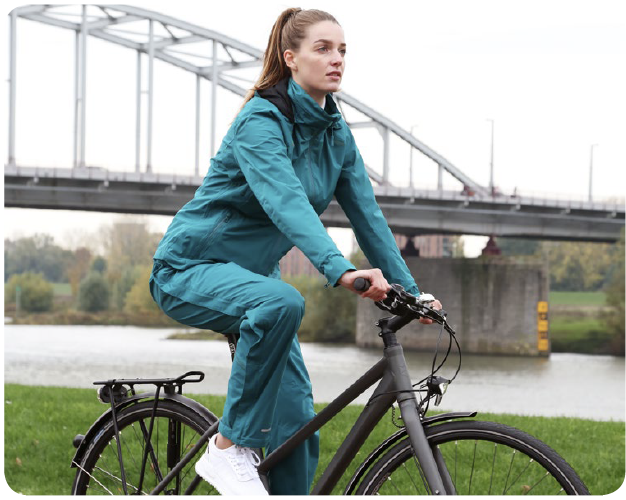 Unexpected weather change
Nothing is as changeable as the weather! Just before departure, you should therefore check the weather forecast: periods with sun, but a chance of a local shower. That is of little use to you, but of course you don't want your bike ride to be ruined by a drop of rain. So it's a good idea to take your rain gear with you just in case! With the rainwear from the Basil Skane series, for example, you are perfectly protected against the nature gods. Breathable, waterproof and stylish. So you can get on your bike with peace of mind to enjoy your bike ride, regardless of the weather forecast.
Sit on your bike, relax & enjoy the ride!