Basil unveils a striking new collection at Eurobike 2019
Spread the cycling joy – 365 days a year!
Basil continues to spread cycling joy. Inspired by their favourite cycling moments, the brand once again presents a new collection of baskets, bags and accessories that have been developed to make cycling even more fun, practical and safe. After previous collections of 100% waterproof bags, the innovative MIK system and Nordlicht Technology, Basil brings yet another standout series this year. Basil Cyclist rainwear, the revolutionary cycling rainwear. With this impressive 2020 collection, Basil promises cycling happiness, 365 days a year!
Basil Cyclist rainwear: I hope it's going to rain today!
Do you skip cycling because your rainwear makes you look and feel like a damp noodle inside a wet plastic bag? Are you embarrassed about arriving at your destination dripping wet, inside and out?
We admire the folks who cycle in the rain, but we envy the ones who look good doing it. What's their secret? Super powers aside, good rainwear is key. With Basil rainwear, you can worry less about the weather forecast and more about where you're going. Good-bye, plastic bag feeling. Hello, 365 days a year rainwear.
Basil Discovery 365. The road is yours.
The great outdoors is calling to you! On the beach. In the woods. On the banks of the river. Your bags are packed with everything you need for the adventure ahead. Basil Discovery bags are perfect travel buddies for such occasions. The series consists of a single and double pannier (9 and 18 litres, respectively). Both are compact and lightweight and come equipped with functional features like elasticated side pockets and holders for drinking bottles. With the Discovery range, you head out every day of the year, safe in the knowledge you've a premium storage solution at your disposal. That's true of even the rainiest of days. With the rain cover, you can be confident not a drop of the wet stuff will reach your precious belongings. The road is well and truly yours! Recommended retail price from €39.99.
Be stylish. Basil Bohème.
With the Basil Bohème carry all bag, there's plenty of room for all your little one's essentials. With an 18-litre capacity, there's enough space for teddy bears, books and everything else they need for the day. You can also count on being on trend with these stylish bags, with a range of new colours and prints to choose from. In addition to the single bag, there's a double bicycle bag with a 35-litre capacity, along with a handlebar bag (8 litres), a waterproof saddle cover and an essential bicycle bell. With colours including forest green, indigo blue, fig red and charcoal, you've plenty of choice for when it comes to mixing and matching your accessories. Recommended retail price from €11.49.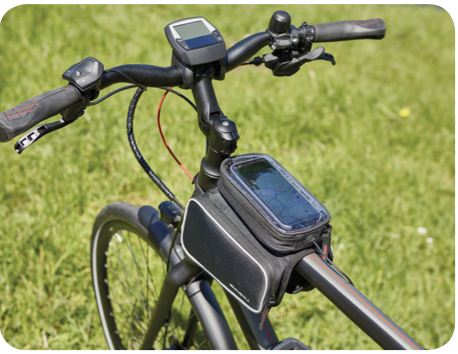 Mini size, maxi function. Basil frame and saddle bags
Size does matter. We're talking about the new range of small bags from Basil. They're an ideal solution to your small luggage needs, with a range of options to choose from. Take for example the Basil Sport Design triangle frame bag M in black. Equipped with a large main compartment, it's perfect for storing and transporting everyday cycling essentials like a bicycle lock. With elastic straps, it's also handy for carrying around other accessories like bicycle pumps. Need to take your repair kit or mobile phone with you on your cycling adventures? Then simply attach a Basil Sport Design saddlebag M and top tube frame bag to your saddle or frame. The latter option has a handy transparent window which allows you to control your phone while it's slipped safely inside. Basil's frame and saddle bags are small in size, but big on function. Recommended retail price from €19,99.
Crate + MIK = GO!
You've no doubt come across Basil bike crate before. Stylish, sturdy and functional. Now, these essential accessories boast a brand new base. Thanks to this new bottom component, the crates are now compatible with the MIK system. With the MIK system, you can simply click the crate onto the back of our luggage carrier (and easily remove it later). Or you can do the same on your front carrier, just as easily. Our large front crates are now equipped with MIK mounting profiles to make your daily cycling adventures easier than ever. Crates are available in different sizes and colours. Recommended retail price from €15,99.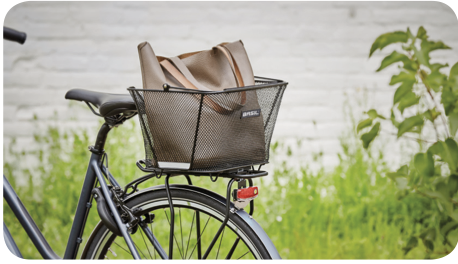 Basil Lesto baskets
High and robust. The Basil Lesto baskets offer enough space for your grocery bags and store-bought essentials. What's more, with the pre-assembled MIK adapter plate, you can easily attach the basket to your carrier in moments. Equipped with a soft-grip handle and recesses for your saddle, it's a breeze to handle. Also available in a regular version, these baskets are suitable for use with MIK and Racktime adapter plates (sold separately). Recommended retail price from €19,99.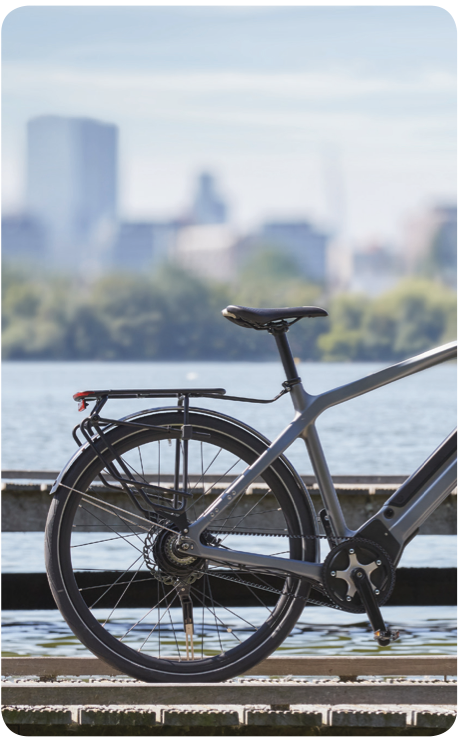 Basil Commuter Carrier
"Imagine being able to commute carefree on your e-bike, because you know that your gear fits perfectly on your bike, that it is transported shockproof, that you are clearly visible and that your bike is Smart(IoT) connected."

This is what Basil had in mind when developing this new and innovative carrier together with international experts in the field from Spanninga, Tracefy, Massload and MIK. The carrier has been specially designed for the world's fastest growing market group: commuters. These cyclists intentionally choose to purchase bikes (often an e-bike or mid to top-range speed bike) to travel to and from work.
The new Basil Commuter Carrier has numerous new innovations, including:
A new way to hang your pannier on the carrier: The Basil Shock Absorbing Tube (BSAT©)

Adjustable tube creates spaces for your heels to move freely.
Suspension reduces tension and pressure on bike accessories.

An integrated, highly visible rear light from Spanninga, utilising groundbreaking Contour Lighting Technology (CLT ©), exclusively for MIK
Detachable MIK flashlight from Spannigna (optional)
The fastest growing integrated system for luggage racks: MIK
MIK Smaet Box for Tracefy: the ability to make your bike a "smart" one using the Tracefy IOT system (optional)
Quality and production guaranteed by the largest carrier manufacturer (Massload)
And that's not all...
Keeping what's good and making it even more amazing. That's the philosophy behind all of our products. In addition to its new portfolio of products, Basil is expanding its existing collections, with new must-haves including:
The new Basil KF Ahead-stemholder makes a welcome addition to its collection of systems. Suitable for various attachment options. Recommended retail price €17,99.
The Bremen KF front basket is now available in stylish silver.
The Urban Dry series has been expanded to include double panniers in charcoal melee. Also available in a MIK version variant.
The Mada saddle bag boasts a slick redesign.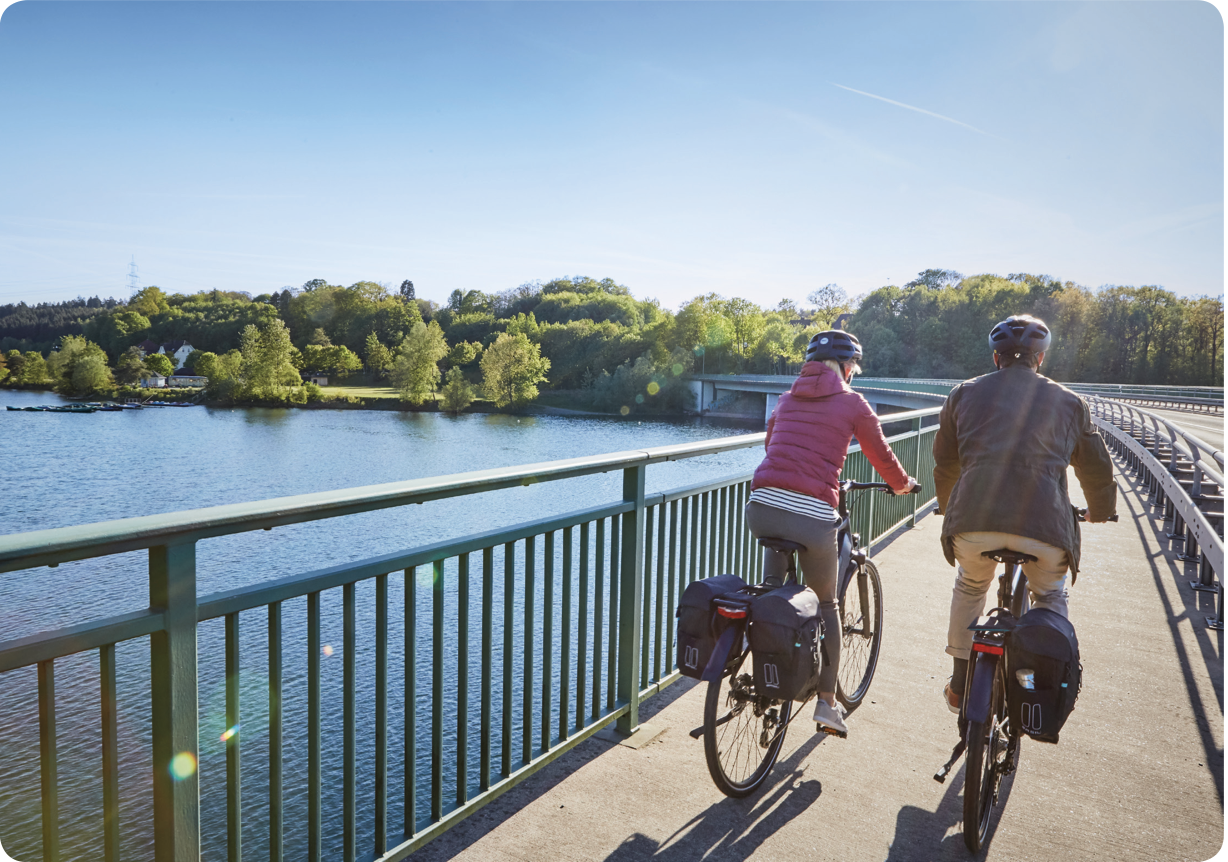 Discover the new collection during Eurobike 2019
Whether you're there to look and touch fresh collections, or ask questions about what's new, we'll be there at Eurobike 2019 to respond to all your needs. Discover our new collection from 4 to 7 September when you visit us at stand 26 in Hall 4.